September Planning!
Every year I personally experience September planning, changes and such in my life. I am sure it has a lot to do with the weather/seasonal changes we experience. I really love this time of the year, the feel of it all. The weather becomes a bit cooler for us here in Michigan, leaves on the tree start to change color, kids go back to school, my fitness business picks up and so much more. It is just that feel of routine, vision, goals and more. Ramping up and winding down, both together, as much as that is an opposite comment.
I am returning from taking 3 weeks off, having house guests, entertaining and traveling. My routine is so out of whack right now, and I'm totally scrambling. Out of focus, lacking direction, schedule, and like I said, routine! Climbing into bed last night, I was looking forward to getting back on track in the morning… and then we lost power. I couldn't believe this. I panicked, asked 'what the hell' and then went into solution back up plan mode. Ahhh, I felt better. Power returned one hour later. I really wanted my routine in the morning.
Tuesday morning back on track!
Well, sort of. Thank you, Lynn James, for kicking my tushie and scaling down three simple things just for this week to get reorganized. It sounds so simple, but my schedule it isn't. I manage two businesses and my days are in-out of my home, so my time doesn't allow chucks to get down and get creative. Well, that is changing!
Here is what I am doing:
Mondays: fitness business-classes and clients; Coaching client calls
Tuesdays: content and client calls
Wednesday: fitness business and scheduling social media
Thursday: a bit more content and other appointments
Friday: fitness business and volunteering
My commitment is to stay uber focused, which means shut off all electronics and focus on the tasks! I do not like to sit still, with the change of the seasons I want to move! I am also a 'putzer'. I love to reorganize and clean things. I laugh and cannot find things because they are so organized. When I am in this mode, it leads me to creativity and stronger visions, so in my scheduling, I allow time for this. However, it can become a runaway train and take me over if I allow this. Too much 'putzing' and not enough progression. For me personally, I lose my grounding and I spin energetically, it becomes too much. The place where I feel busy and unproductive, then I feel as if I totally cheated myself out of ME! Literally, at the end of the day, I feel I didn't move towards the important stuff. Staying there depletes me and then the anxiety begins to show up or better known as the Hag grabs this opportunity to let it rip!
My language in this area becomes, okay, tomorrow… and then the next day, and then the next day and so on. I do manage to accomplish my goals that lead to my vision, however, other things that I should say no to land in my day. This isn't healthy.
So I begin right here and now with this post of September planning and focusing on just three simple things. It is amazing how I can support my clients through all of this, but when it comes to me….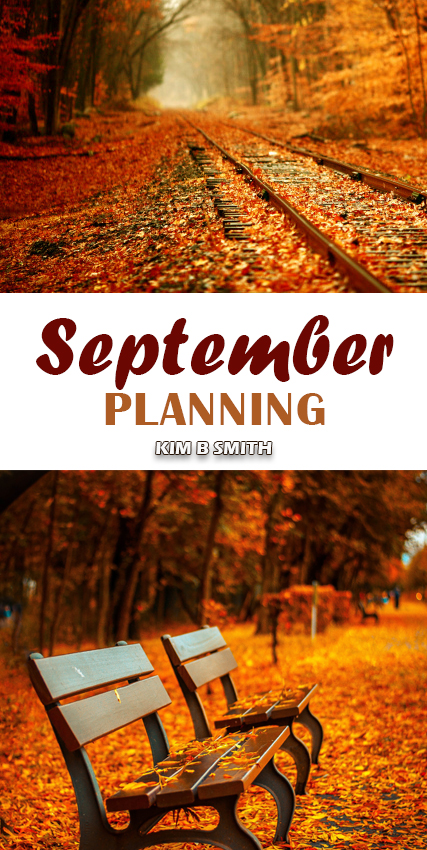 NO MORE! CHANGING ALL OF THAT UP!!! NOW!
I would love to hear how you manage to get back on track after a vacation or a disruption in your schedule. Keep it simple, my favorite words!
Peace,
Kim