Happy Birthday, Grace!
My baby is six years young today! Where has the time gone?
Amazing Grace, you entered our lives five years ago, you were on the path to becoming someone's eyes-Leader Dogs for the Blind. We were told your first year was in Iowa State Prison where a prisoner raised you, then back here to Michigan for a four-month training program, which you passed with flying colors! Unfortunately, your paws became infected which they couldn't clear up, hence we have you.
The process we went through to adopt you was short, fast and an eye opener to me. We attended a two and half hour meeting where they talked about this amazing program and how people with sight impairment lives change from these dogs. It provides freedom, and most importantly LOVE! I heard testimonies from people that have dogs from this great program and all of them said the love these animals provide is something they hope to give back or be as just as wonderful of a person as their dog. Of course, my eyes watered up. Well, I was also like a child on Christmas morning waiting to open up the gifts. We have a very influential contact there and we were told we were going back to the kennels for a tour and to see the available dogs. After this two hour orientation and completing an application, paying money, I was the last to leave and also told we couldn't go back because they were short staffed that day. Okay, tell your children Santa didn't make it to your home, that is how I felt.
Two weeks went by and a phone call came through on a Saturday. Now there is a wait list of four-five months for a dog and my request was a female, black lab. Here is the message:
"We have a black female for you, Grace, she is one and half years old, if you are still interested please call us." I could barely dial that phone fast enough. That following Tuesday we went back to meet her and it was love at first sight! My Amazing Grace!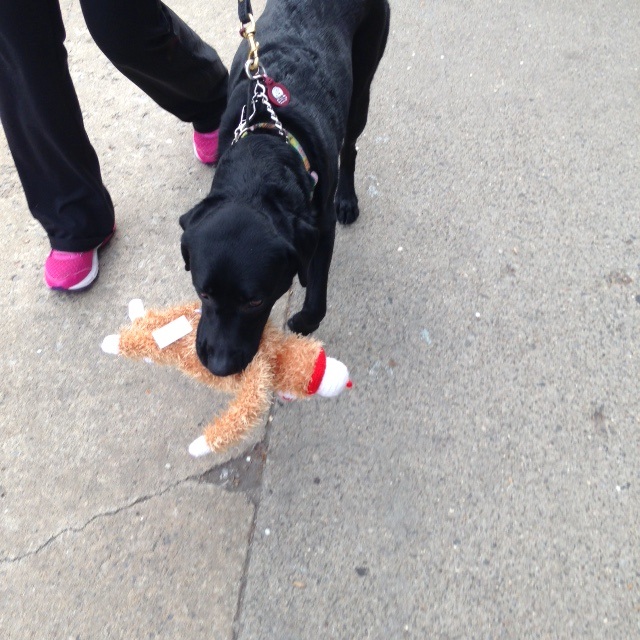 Our first year with Grace was a tough one
Grace has an auto-immune disorder where she is allergic to EVERYTHING: environmental and food and there were constant visits to the vets and she wasn't responding to anything we were doing for her, so she became worse and worse where we were running out of options. It came to a decision of her being miserable or do we let her go. I can now say we have her stabilized (Spring in Michigan and this is huge) she is doing great.
We are huge supporters of Raw Food Diet for my girls, essential oils, Chinese herbs, acupuncture, bone broth, supplements and a few other organic healthy things for them. Many people think we are crazy and that this is way too expensive, and you may be right, however, in the long run, the stress of us and Grace going to the vets and the vet bills far outweigh my monthly care for her. Overall, this is far most cost effective than the constant events at the vets.
Yes at one point we had to question all of this
In Grace's first year, she stopped responding to everything and was declining fast. A miracle happened and she has been fine ever since. I am pro-active with her health so she can live an active happy and healthy life.
Happy Birthday, Grace! You are amazing, gentle sensitive, and loving! Your work as a big sister to Luna and as a therapy dog is nothing short of giving back and paying it forward!
I love You, Grace! Happy birthday and much more to come!
Peace,
Grace's Mom, Kim